Corcoran Ranch Apple Orchard
Granny Smith Apples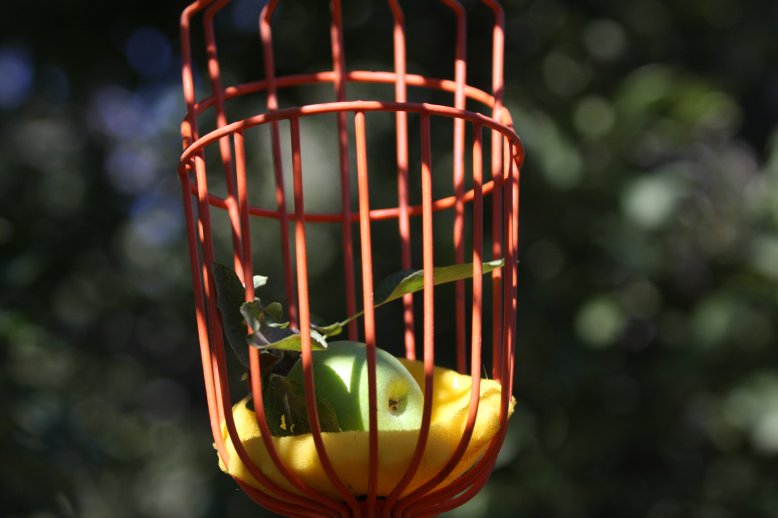 In 2009, one of our customers, Chris Matthew, a professional photographer and owner of Premier Sports San Diego, took this picture while his family enjoyed time in the orchard. An email arrived late that Sunday night with two pictures attached. It was our first season after the Witch Creek Fire of 2007, and our family was touched by his ability to capture what we thought was the perfect picture of one of our Granny Smith apples. We still consider ourselves very lucky to have had 100 trees survive the heat of that fire! We had this picture enlarged and framed, and it now hangs in our new house!
Orchard Season 2018

We will not be open for picking this year.*
*Granny Smith apple trees need chill while they are dormant. We didn't have enough at the right time.
*They need optimum weather when the bees are spreading pollen to the blossoms. We didn't have that.
*Once an apple is set, it needs optimum weather to mature. It got too hot!!!!
*The trees are okay, but the small number of baby apples didn't make it. We irrigate the trees, so water was not the problem. Air temperature was the problem.
We'll try again next year. We're sorry.
The following information should be disregarded. We are not open for picking in 2018.
General Public
Picking Hours: 10:00 am-4:30 pm (We're closed for 2018.)
We provide plastic bags, pickers, 6 picnic tables, and recipes.
No dogs, please.
Field Trip Groups (We're closed for 2018.)
Field Trip Presentations are done (by reservation) on WEEKDAYS.
We charge $10.00 per student for school and scout groups.
We charge $10.00 per family for home school groups.
The $10.00 charge entitles you to the presentation and 10 apples.
We charge $1.00 per pound for additional apples picked.
Please call or email me to schedule a field trip. (There won't be any field trips in 2018.)
We'll find a time that's best for you.
Kathy Corcoran
760-500-1214
kathycorcoran@corcoranranch.com